When thinking about interior design, the bathroom is often the last place a lot of people will be thinking about. This room is usually only used a couple of times each day, and a lot of people won't consider it a place which their guests will go. Of course, though, this isn't true, as almost all of your visitors will want to borrow your facilities. So, to help you achieve the bathroom basics, this post will be exploring the ones you'll need the most, along with the help you can get along the way.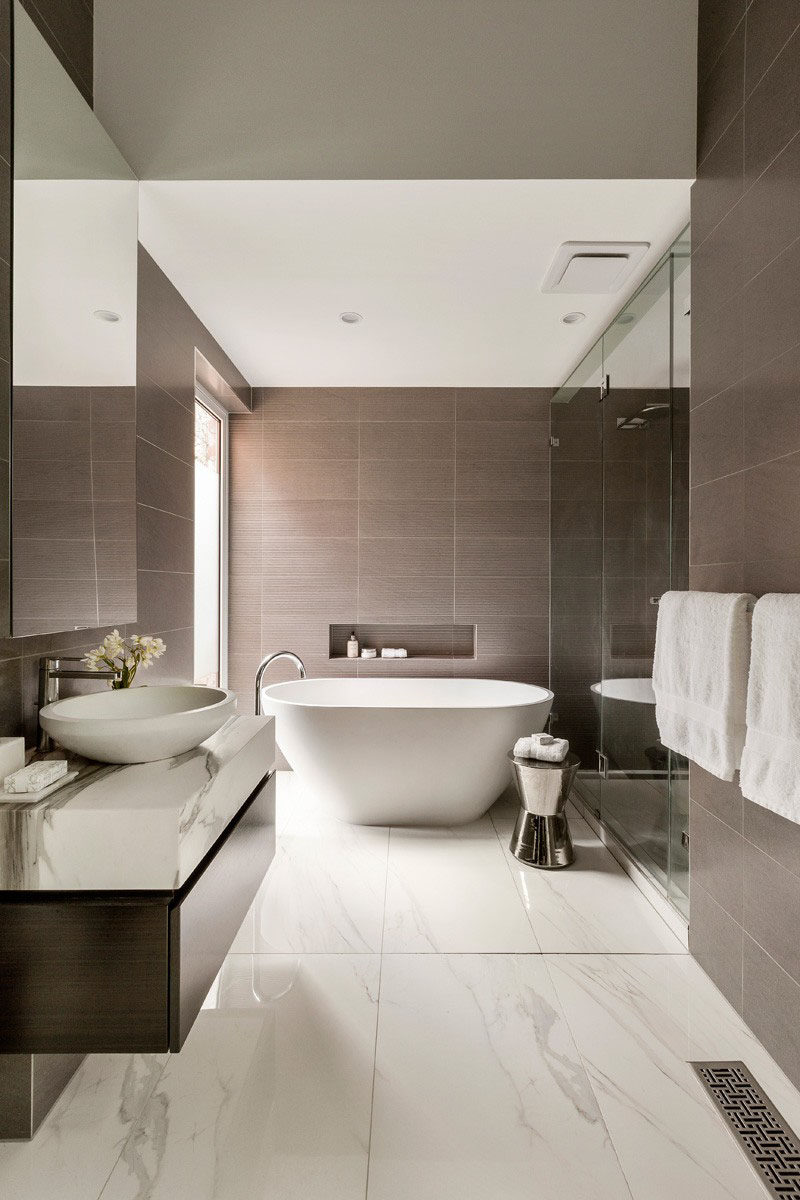 (Photo Credit: http://www.contemporist.com/bathroom-tile-idea-use-large-tiles/)
There's nothing worse than stepping out of the shower or bath to be welcomed by a blast of cold air. In rooms like this, the floors and walls are often tiled, making it hard for heat to be trapped in, and enabling a chill to pervade. Thankfully, options like under-floor heating and towel rails can solve this for you. Of course, though, you'll need a construction and plumbing expert to help you get it all installed. Most people will find the benefits of a hot bathroom to greatly outweigh the cost and time you have to spend on getting it done. In a lot of cases, you may even find that this improves your health.
Next, it's time to think about an element which can have a huge impact on the usability of your bathroom, without impacting the appearance whatsoever. Water pressure varies from place to place, and a lot of cities suffer from an inability to improve this. Thankfully, in the home, this sort of issues can be solved with a simple product; a pump. Like heating, this will often need to expert help of a plumber to be installed, and you will need to do loads of research to make sure you're buying the right sort of item. Not a lot of people realize quite how important this aspect of a bathroom can be.
There's not much point in having a bathroom without the bath, and this isn't the only facility you're going to need. Along with this, most bathrooms will have a sink and toilet, and may even have some fancier appliances like bidets. You can find a large selection of bathtubs across the internet, with loads of websites stocking these sorts of items. In most cases, you will also have to buy some fittings, like faucets and shower heads, too. The company helping you to design the bathroom should also be able to help you to find these items. Of course, though, you could also use some review sites to get an idea of the best options.
In a room like this, you have loads of opportunities to play with style, and there are loads of popular options to choose from. Sourcing some inspiration in this area will take some research. Websites like Pinterest are best for this, as they have loads of user-submitted content which can easily be searched with their clever tagging system. Along with this, bathroom stores will also be able to give you some ideas for your own space. But, of course, some of this will have to come from your heart. Otherwise, your bathroom won't be unique, and this defeats the purpose of this whole journey. There are loads of expert interior designers out there with the knowledge to help you build a great bathroom.
Finally, as the last part of this project, you'll need to think about the job itself. Building a quality bathroom is not an easy job. A lot of the work you'll have to do will take years to master, and most people won't have the time to spend learning it. Of course, along with this, you may even need some permits to do some of it. For these reasons, you'll almost certainly have to pay a couple of professionals to help you out. Youtube is a great place to get help for the jobs you can complete, though, as it gives you access to loads of great videos which are created by experts in the DIY field.
Hopefully, this post will inspire you to get to work on your own bathroom to beat all bathrooms. This part of the home is essential to your everyday life, and it has to be designed in a way which reflects this. Corners can't be cut, quality can't be ignored, but, most importantly, professional help should always be used where needed. With all of this in mind, you should be ready to start getting to work.